Retour
patrimoine culturel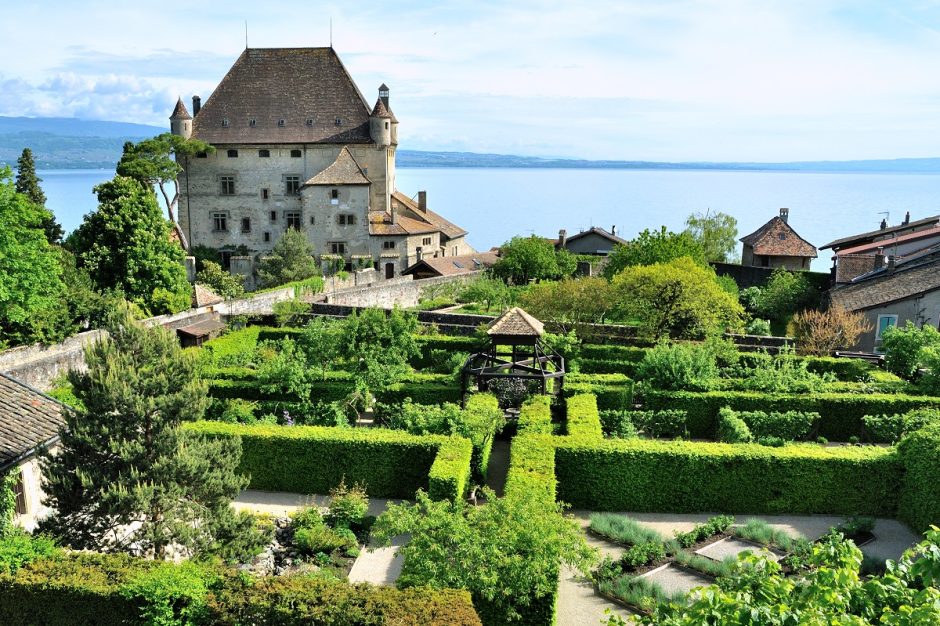 Description
'Le Jardin des Cinq Sens' (The Garden of Five Senses) is inspired by the romantic settings of medieval mazes. Several intimate gardens with evocative names are like an invitation to awake the senses: 'Jardin du Goût' (the Taste Garden), 'Jardin de l'Odorat' (the Scented Garden), 'Cloître de plantes médicinales' (the Cloister of Medicinal Plants), 'Prairie Alpine' (the Alpine Meadow), etc. Each area pays homage to the richness of the plant world.
No fewer than 1500 varieties evolve with the seasons for the pleasure of everyone. Legendary plants, foliage with astonishing textures, collection of fragrant plants, curious vegetables, roses ... Everyone visits at their own pace for a sensory walk in the heart of a patiently developed living work.
Outstanding Garden Label awarded by the Ministry of Culture and Communication.
Member of the Most Beautiful Gardens of France
Located on the French shore of Lake Geneva, Yvoire is a fourteenth century medieval village. It has retained precious elements from the past. Yvoire has received a national prize for its floral decoration, and is a member of the Association of the Most Beautiful Villages of France. Nestled in the heart of this charming village, an exceptional private garden classified "Remarkable Garden". The Garden of Five Senses is inspired by the symbolism of medieval mazes and invites to a unique sensory walk where plants reveal their secrets.

This medieval bourg, ideally situated on the expanse separating the «little lake» from the «great lake», still possesses some of the essential elements of the fortifications of the 14th Century: the château, doors, ramparts... Known as a modest fishing village in the beginning of the century, Yvoire is now ranked as one of the International Laureates of Floral Decorations, and is a member of the Association of the Most Beautiful Villages of France.

People lived here from distant Roman times on into the High Middle Age. By the XII century, Yvoire was already a lordly domain. In the early XIV century, military architects of the great Amadeus V, Count of Savoy, turned it into a strategic fortess. Essential elements of the fortified village remain: the castle, gatetowers, and crenellated ramparts. The layout of the streets has stayed unchanged; Indeed, some streets date from an even earlier period.

The garden

A garden of emotions and intuitions hidden on the heart of the charming village of Yvoire, on the shores of Lake Geneva. Inspired by medieval labyrinths, visitors are invited to discover several intimate gardens dedicated to the five senses and the treasures of the plant world. Humans and plants reunite in this wonderful jewel, which is maintained daily by a team of dedicated gardening enthusiasts who love sharing their knowledge. Trained fruit trees, medicinal plants, forgotten vegetables, flowers with evocative scents, surprisingly textured leaves... the garden's diversity grows each year, to the delight of its visitors.

A private garden classified as "Remarkable Garden" by the French Ministery of Culture

Taking its inspiration from the Middle Ages, this garden elaborates the theme of the five senses in the maze and in the various green spaces. You are invited to smell, touch, contemplate, listen, and sometimes to taste!

From time immemorial, gardens have symbolized Paradise Lost. . .medicinal and aromatic herbs, fruit trees, vintage rose bushes, aviaries and fountains line a pathway where a collection of 1300 varieties of plants changes with the seasons.

As you round a bend in the pathway, you may meet one of our gardeners. With great passion and a deep respect for nature they take care of this plant kingdom nestled in the heart of a medieval village classified as one of the most beautiful villages in France. You will share the gardeners' motto, which is also that of the Bouvier d'Yvoire family, who created the garden: Festina lente, or "Make haste slowly". A stroll that will enchant young and old, a journey of initiation to discover and understand the world of plants :
- 1300 plant varieties identified
- self-guided tour with descriptive map
- recommended duration of visit : 1 hour and more…
- funny quiz for children
Discover the garden with your five senses !
Complément accueil
A map is given to each visitor and a fun quiz is given to the children.
Groups can be catered for by reservation only.
Services
Educational visits

Shop

Permanent entertainments organiser

Tourist brochures
Environnements
Town location

Village centre

Close to pleasure port

Pedestrian area
Tarifs
Adult: 14.50 €
Child : 8 €
Student: 10.50 €
Large family: 37 €
Disabled: 10.50 €
Group adults: 12 €
Group children : 7 €.

Child entry valid for 6 - 18 years.
Group rate available for > 12 people.
Modes de paiement
American Express

Bank/credit card

Check

Travellers Cheque

Cash
Bons plans
Take your ticket online!
Select the day and timetable, and enjoy special rate: €13 adult (instead of €14), €7.50 child (instead of €8) and €36 for 2 adult + 2 children
Période d'ouverture
From 07/04 to 10/09, daily between 10 am and 6.30 pm.

From 11/09 to 01/10/2023, daily between 10 am and 5.30 pm.
Langues parlées
German

English

Spanish

French

Italian

Dutch

Russian

Chinese

Portuguese

Japanese

Polish

Arab
Tourisme adapté
Accessible for wheelchairs with assistance

Incline >5% but reasonable
Labels
Guide du Routard

Petit Fûté
Localisation
At the centre of the medieval village opposite the château.
Animaux
Animaux acceptés : Non
Thèmes
Tips : Take your ticket online!
Select the day and timetable, and enjoy special rate: €13 adult (instead of €14), €7.50 child (instead of €8) and €36 for 2 adult + 2 children