Retour
equipement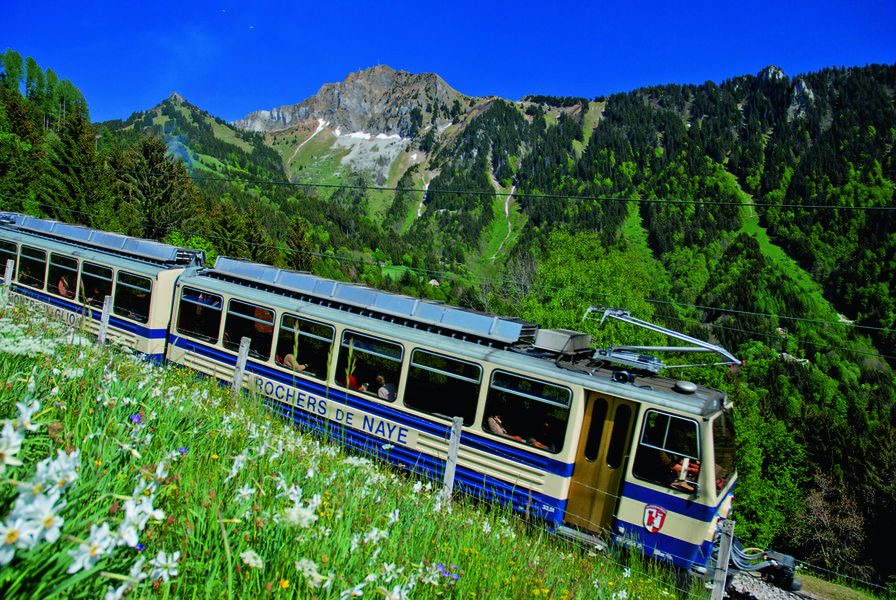 Description
The Rochers-de-Naye, above Montreux, offer an exceptional view of the Alps, Mont Blanc, the Jura mountains and Lake Geneva. A cogwheel railway takes you to an altitude of 2042 m. It's a true paradise, with an Alpine garden and even Father Christmas's house when he visits for the Montreux Christmas Market !
To recover from your emotions, two restaurants await you, the "Alpin" and especially the "Plein Roc", carved into the mountain, with a breathtaking view of Lake Geneva, at one hour from Geneva.

ROCHERS-DE-NAYE, A DAZZLING TERRACE OVERLOOKING LAKE GENEVA
**************************************

In one hour, you climb by train from the palm trees on the lake shore to the edelweiss flowering above.

A real headland overlooking the town of Montreux, les Rochers-de-Naye provides the most spectacular view of Lake Geneva and its surrounding Alps. On a clear day, you'll see the Eiger, the Mont Blanc massif as well as the Jura.

Les Rochers-de-Naye also offers numerous activities for groups or individuals.
The cog railways meander between lake, forests and high mountain pastures taking less than an hour to reach the summit at more than 2'000 m.

A palette of colours and perfumes awaits you in La Rambertia, our Alpine Garden. You can make your own trip around the world as you examine nearly 1000 varieties of Alpine plants and flowers. Entrance free.

While visiting the Rochers-de-Naye, enjoy a gourmet break in the warm atmosphere of the Alpin restaurant. The panoramic Plein Roc restaurant, nestled in the cliff; offers a breathtaking view of Lake Geneva. It is open for groups or during thematic evenings in summer.
Équipements
Pedestrian sports

Tourist transport
Environnements
Mountain location
Période d'ouverture
All year round.
Langues parlées
French
Localisation
Animaux
Animaux acceptés : Non